DOMUS PROPRIA EST DОMUS OPTĬMA
OWN HOUSE – THE BEST HOUSE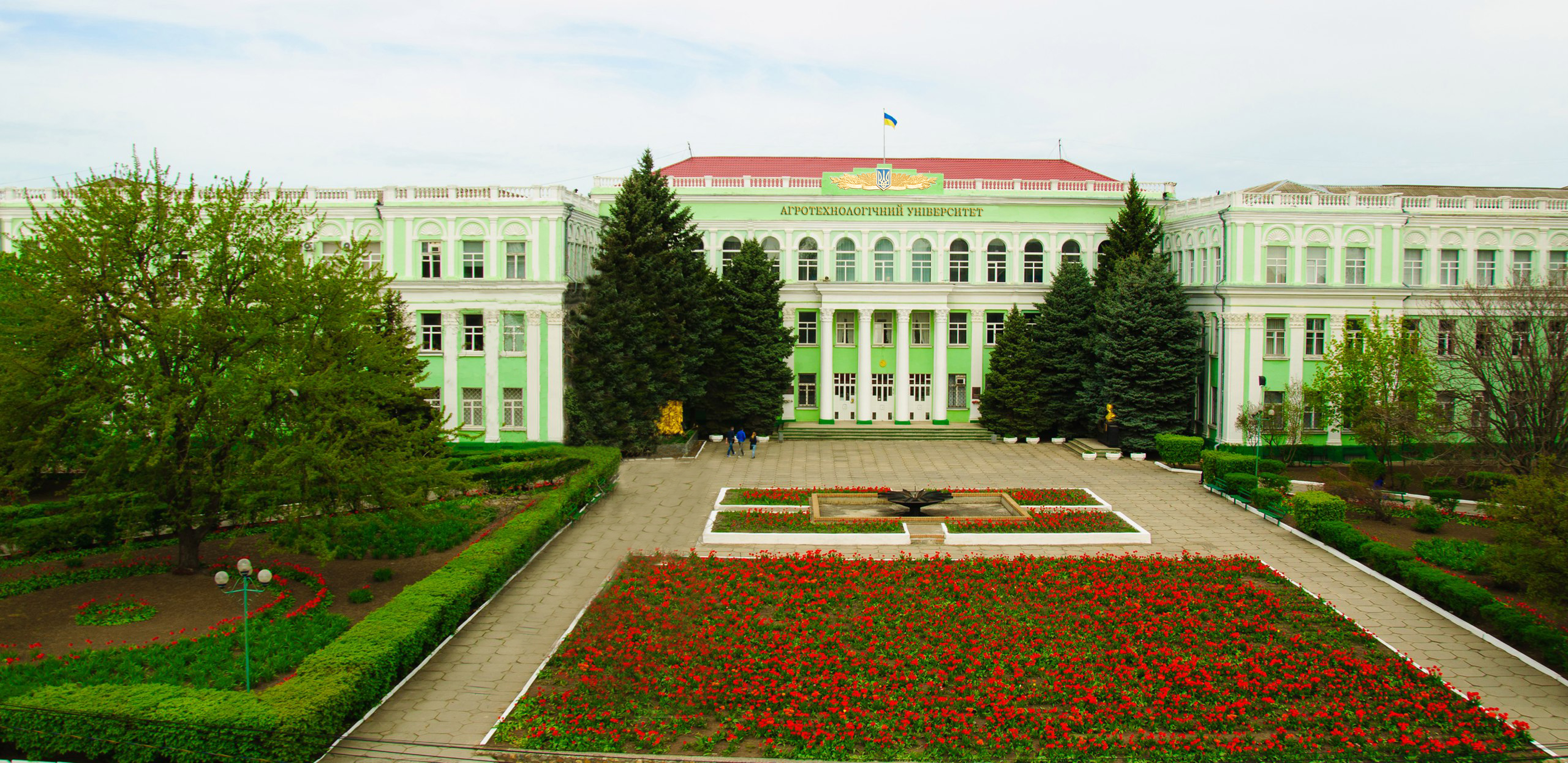 The university has a developed infrastructure:
9 educational buildings;
lecture rooms;
research and teaching laboratories;
center for culture and leisure;
conference room;
concert hall;
Museum of University History;
Scientific Library;
sports and health complex "Saliut";
University Sports Club Tavriya;
medical center;
dining room, buffets;
TV and radio press center;
University newspaper Agrotavria;
educational and scientific-production center (village Lazurne).
CAMPUS TSATU
The campus is one of the components of a full-time student's study and rest. The outer space plays a vital role in how the student feels during his studies and how satisfied he is with the education he has received.
Tavria Agrotechnological University has a large, well-organized territory with green corners, squares, flowering flower beds, chestnut and plantation scrublands islets. The campus area is over 5 hectares, over 4.5 hectares of which is a greened area.
There are 9 educational buildings in the zone of step-by-step availability.
AUDITORIUM  FUND AND LABORATORIES
In the educational process:
over 220 auditoriums including  34 lecture ones; 18 lecture auditoriums of educational buildings are equipped with multimedia facilities which provide the modern level of information representation during all types of training sessions;
more than 100 training laboratories are involved.
The modern level of educational process is provided by 27 computer classes. The learning process involves over 800 PCs integrated into the corporate network and connected to the Internet and WI-FI.
FOOD
Buffets work on campus, dining room – with a total area of 872 m2 for 300 seats.
HEALTH CARE
Medical and preventive maintenance of students and teachers is carried out at the medical center of the university which is located on the territory of the campus and in the city clinics №1 and №2.
HOSTELS
Three hostels of the university allow you to comfortably accommodate more than 1,700 students. Each hostel has the necessary conditions for living, studying and rest: a library, access to the Internet, computer classes.
Sports grounds, gyms of dormitories create favorable conditions for physical development of students in their free time.
EDUCATIONAL AND INVESTIGATIVE HOUSEHOLDS
In the fields (total area 1800 hectares) students have training and production practice, acquire skills of work on modern models of domestic and foreign agricultural machinery, receive the licenses of a tractor driver and a driver.
SCIENTIFIC LIBRARY
University Scientific Library is an important component of the university's information and education environment. Over 400,000 copies of printed and electronic publications have been accumulated here.
In recent years, library specialists have created an electronic catalog, an electronic library, an institutional repository, their own site which serves as an information portal.
There is a hall of electronic resources, reading rooms for 185 seats, free access to the Internet and wireless zone WI-FI for users there.
The Scientific Library conducts interesting meaningful educational activities.
University Museum
The University Museum of History was opened on October 15, 1982, in honor of the 50th anniversary of the educational institution, and it remains an integral part of present day University life.
Today, the museum has a huge historical collection (more than 2.5 thousand exhibits), which details the history of the educational institution since its foundation.
The museum is always crowded: graduates of different years, numerous guests of the University, students and entrants are acquainted with the milestones of educational institution life.
TELEVISION, RADIO AND MEDIA CENTER
The center performs a great deal of work: daily television and radio programs are broadcast, weekly video and audio news of the university are displayed, preview trailers and videos of high school events are made, videos about departments are provided, students of all faculties are provided with assistance in student radio broadcasts and programs.
CULTURE AND  ENTERTAINMENT CENTER (CEC)
Culture and entertainment center of University is the main concert hall where University cultural events take place.
There are 20 amateur activity clubs of the university level and artistic clubs of the faculties where more than 500 students of TSATU are involved.
The main University amateur activity clubs are:
Folk dance group "Yunist'".
Modern dance group "Svitlana".
Vocal Studio "Collage".
Vocal Studio "D'Voice".
University and faculties clubs of quick witted and lighthearted.
Every year the center of culture and entertainment performs more than 100 different cultural and educational events.
SPORT AND RECREATION COMPLEX "SALIUT"
Sport and recreation complex "Saliut" on the Azov coast in the center of settlement Kyrylivka can simultaneously accommodate 150 guests. Excellent facilities for comfortable rest and recreation are created here.
On the basis of the complex, scientific-practical conferences and seminars are held annually at the national and international level..
Sport and recreation complex "Saliut" is a real pearl of the resort coast of Kyrylivka, where hundreds of university teaching staff and students spend their summer holiday each year.
SPORTS CLUB "TAVRIA UNIVERSITY"
Comfortable conditions for physical and sports training were created for students here. The modern sports club "Tavria University" is a large sports building with nine specialized gyms.
The main sporting events of the club are the sports competitions among university students and employees, besides the sports instructors of the club organize participation of University students in sports competitions of various levels.
NEWSPAPER "AGROTAVRIA"
University newspaper "Agrotavria" has a wide range of readers both at the university and in the colleges that are the part of it.
The pages of the newspaper monthly publish information on the main events in the life of the university, achievements, new developments in the field of science and technology, internships of our students, university events led by the student councils of TSATU, sports news and cultural life.