The official flag, standard and coat of arms of the university were approved by the Academic Council at the submission of the contest committee of the Art Council in view of the award of university status in 2007. The author of the sketches is assistant professor of the department of processing and food production equipment Petrychenko S.V.
UNIVERSITY STANDARD – UNIVERSITY STEERING (on both sides)
COAT OF ARMS OF THE UNIVERSITY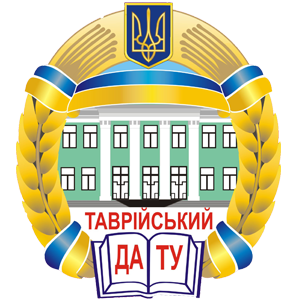 The coat of arms is made in the form of an ellipsoid, which symbolizes the birth of life. The stylistic image of the central entrance colonnade of the university's main educational building is surrounded by ears of wheat, which symbolize the university's belonging to the agrarian sector. The unfolded book as the main source of knowledge at the bottom of the emblem symbolizes open access to education.  The State Emblem of Ukraine and the blue-and-yellow ribbon surrounding the ears of wheat symbolize the state status of the educational institution.  Abbreviation below the main building image 'Таврійський ДАТУ' is the shortened name of the university.
The university flag is a two-sided rectangular raspberry-colored cloth – the colour of the Ukrainian Cossacks.  The right side depicts the coat of arms of the university; the wrong side represents an olive branch symbolizing peace and harmony, and the Latin inscription "DOCENDO – DISCIMUS", translated into Ukrainian as "By teaching we learn".
University standard is one-sided square raspberry-coloured cloth. There is a coat of arms of the university in the center of the standard, along the border of the square there is a stylistic image of the sun rays made in alternating national colors – yellow and blue. The standard is bordered with tassels (fringe) on three sides.
UNIVERSITY ANTHEM
Lyrics by Ovcharov V.V.
Music by Kostyts P.I.
Радуйся, земле –
Освітила поля
Університетська
Степова зоря
ПРИСПІВ
Вічно живи, наша гордість,
Світло на крилах неси,
Прославляй Україну –
Землю щедру, квітучу, як родину.
Слава тобі, професоре,
Славне юнацтво рости,
Нашу справу велику
Тобі вести
Радуйся, ниво,
Колоситься жнива –
В світ іде таврійська
Інженерія.
Радуйся, юність –
Науковий букет
Надає аграрний
Університет.